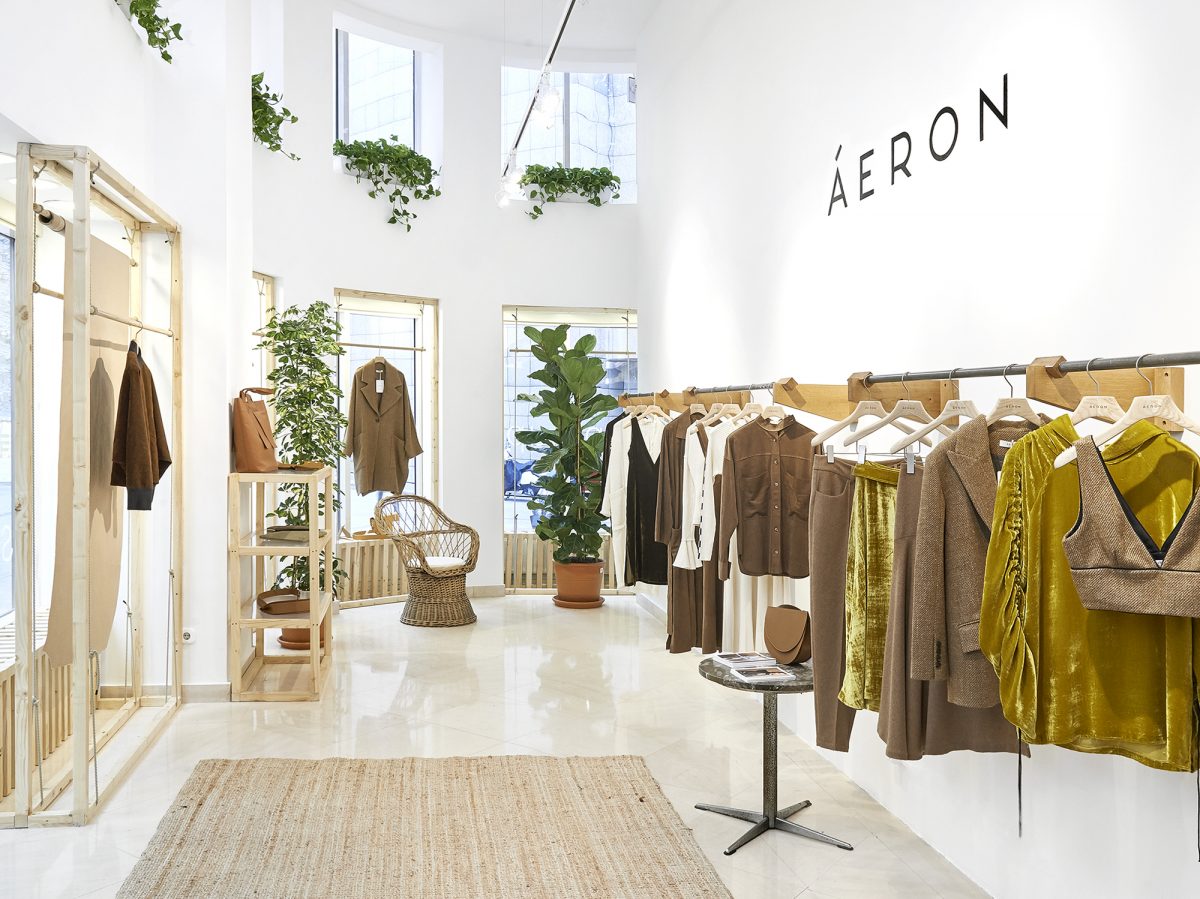 The best new stores in Budapest!
(text: Emese Dobos-Nagy)
2017 brought some changes to the palette of fashion stores in Budapest: it became richer in tones! More and more exciting places are selling the garments and accessories of upcoming Hungarian designers. Let's take a look at them!
ÁERON Pop Up Store
ÁERON is one of the biggest Hungarian contemporary brand and it is well-known abroad as well. Their dream came true as their pop up store is opened at the beginning of December. What would be a better location for them than Fashion Street which is one of the most frequently visited shopping street here? You can try on and fall in love with the latest collection but you can also find amazing pieces from the previous ones on special prices (-30-70%)!
Where? V., Erzsébet square 9-10.
Who? ÁERON, SA.AL & Co. (organic cosmetics for men)
Photos: Ádám Földi
ESZKA Designer Store
Eszka is the perfect place for the lovers of colorful and patterned knitwear and home textiles! Next to the eye-catching knitted pieces, you can find the bags of Zsofi Hidasi and jewelry from Artkores as well as a 'feel like home' atmosphere.
Who? Artkores, ESZKA, Zsofi Hidasi
Where? VII., Nagy Diófa street 9.
CLIQUE Design Studio
This place is rather a creative space than a showroom. Next to clothes and accessories you can find artworks, make-up artist's and marketing company's residence there, who joined their forces to build a strong and helpful community for the local fashion (and creative) scene.
Where? VIII., Baross street 47. II/7.
Who? Abigail Wirth, Between, Dániel Hürkecz (marketing), DELACIER, Mandragora Design, jkaposistyle, Szlamizita (makeup artist), András Vízi (photo)
Atelier Palmetta Concept Room
Some of the strengths of this store are affordable prices, great quality and limited collections from Hungarian designers. Behind this initiative are Anna and István Regős who has more than a 20 years old experience with a gallery and design store ruin in Szentendre. They stepped into the fashion world with Natália Gyulai fashion designer who is the curator and buyer of their fashion selection. Next to unique garments, you can find sustainable shoes, knitwear, gifts and bags as well.
Who? CAMOU, Enjey, HAVRÁN, Katagami Kokeshi, Mandragora Design, Miltwill, NATI100%PUREIDEA, Palmetta Collection, SILKWOOD DESIGN, Virivee
Where? XI., Bartók Béla street 30.
Lumme designer store
This store was opened by fashion designer Samea Noori. Lumme offers her clothes naturally which represents a feminine, elegant style and she masterly mixes folklore-inspired, handmade details with contemporary elements. Her store also offers accessories from other Hungarian designers as well, expressing a unique aesthetic together.
Who? E N I H O R N, DELACIER, Folenta, Janka Arnoczy, Samea Noori
Where? V., Galamb street 5.
Repertory is a concept store which is operating under the sophisticated hands of the founders. Melinda Tóth, designer of Daige and Kinga D. Nagy, designer of The Mama Kin jewelry brand vivifies this unique place which represents a nice and comfortable 'so good to be here' feeling. They offer clothes, jewelry, plants, ceramics, leather goods and other import products as well while creating a secret oasis. Keeping in touch and community are both very important for them: next to the two night shopping event in a month, they organize other programmes and invite you to create with them.
Who? Daige, The Mama Kin, Hérincs, Voy, NUEN, Dot for you, Pompom, Tatjana Farkas
Where? I., Alagút street 4.
PUNCH Store
PUNCH Store was established by four Hungarian designers. It is the home of Anna Daubner's and Lindamelinda's clothes, bags from Anna Amélie and jewelry from Dori Visy. The atmosphere is fresh, feminine and friendly. You might easily run into one of the designers if you visit this shop! A few months ago, hat brand Vecsei Millinery joined to the girls to dress you up from (almost) head to toe!
Where? VI., Paulay Ede street 15.
Who? Anna Amélie, Anna Daubner, Dorivisy, Lindamelinda and Vecsei Millinery
Hababa Design Store and Gallery
Hababa is a deniably colorful place that is worth to visit! Their mission is to support young, upcoming designers:  you can grab the best pieces from not-so-well-known designers as well. Next to local fashion and accessories you can find exciting vintage pieces and fresh international brands here. Hababa is also home of a store, a gallery and a place for workshops.
Who? Abigail Wirth, All on you, Alma Vetlenyi, Ame Creation, Amient, Artkores, DasSet, Fanni's, X2 Acurator Hoxton, Je suis Belle, JH.CONCEPT., konsanszky, Macha, Malinovka, Miista, Nadin, Noen, Pamut Apparel, Romani Design, THEFOUR, The Mama Kin, Vengru, Zachi
Where? V., Fehér Hajó street 8-10.
Société.démo Store
This is the new home of contemporary fashion! You can find Kata Szegedi's and Grandpa's garments here (who are the Hungarian participants of Société Fashion Accelerator programme) next to international brands which you can't find anywhere else in Hungary. We have good news: they will offer Victoria Beckham, Mother of Pearl and 3.1 Phillip Lim soon! The Store will move into its final place to the Société House during next spring.
Who? Chylak, Frame Denim, Ganni, G.Kero, Le Petit Trou, Nanushka, Kata Szegedi, Grandpa
Where? V., Sas street 16.